As the CEO of ParcelShield, I'd like to first offer my most sincere thoughts and words of encouragement to you and yours as we come together to navigate these uncertain times. Throughout the COVID-19 crisis, we have been talking with all the specialty and mail order pharmacies we serve about market shifts and how to respond. As a frontline partner, ParcelShield® would like to take a moment to share some trends, expected areas of impact, and best practices to help you and your organizations keep vital medications moving into the hands of those who need them – without delay.
For many of us, but especially for your patients and their families, the COVID-19 crisis has forced a new perspective and new priorities for everyday life. Do I take the risk of leaving my home? Am I introducing more risk to my family if I leave my home? How safe is it to go to the supermarket? Should I take a chance on getting more diapers for my child? Is it safe to go pick up my prescription at a retail pharmacy, or can I wait to receive it in the mail?
For your immuno-compromised specialty pharmacy patients, these concerns represent a day-to-day series of questions and answers they ask during the most stable times – even when the world isn't facing a global health crisis. COVID-19 multiplies these concerns exponentially.
Specialty patients are worried and rightfully so. Their specialty medications are critical, life-altering, and often life-sustaining. Even the slightest delay in receiving specialty medications could make the difference between safely staying home, making a potentially high-risk trip to a doctor's office, or even worse, making a preventable trip to the emergency room.
How COVID-19 is shaking us to our foundations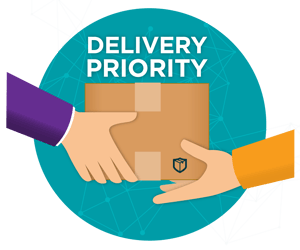 The coronavirus that causes COVID-19 has set into motion an Earth-shaking series of events. And as we're seeing with each passing day, those events are compounding on each other and culminating into potentially disastrous conditions.
For specialty pharmacies and the critical health of your patients, this means:
Supply chain bandwidth issues, which will inevitably lead to delays — and will likely increase distress for thermally sensitive medication packages. As a result, there may come a time when parties in the supply chain are forced to make hard decisions about which shipment types get delivery priority.
More medication shipments may be redirected due to an increasing number of patients sheltering in place with their family members in other locations.
An increase in lost, misplaced, or misdelivered packages as we see more home deliveries and doorstep drop-offs and the elimination of delivery signature requirements.
Above all, there's a sense of stress, uncertainty, and worry that is becoming more apparent in virtually every aspect of our lives. This is especially true in clinical settings, where the impact of COVID-19 is leading many to worry about their health and the health of their loved ones and their communities.
What these conditions mean for specialty pharmacies
There is a new set of challenges for patients and pharmacies that simply could not have been predicted. Increased worry in patients translates into a significantly higher need for support from the organizations that provide their critical therapies and help manage their health. For pharmacies, this means additional stress on customer service resources, an increase in hold times, and a resulting strain on staff members who are already stretched thin trying to maintain the balance between the professional and personal demands on them and their families in dealing with the effects of COVID-19.
The operational shift to work from home has created new challenges for all organizations, especially those who had have never operated virtually. This, coupled with the growing demand on customer service teams and the increase in patients requesting home delivery of their medications, has compounded the workload on specialty and mail order pharmacies. Lastly, the personal challenges on all your team members during the crisis from having to work from home, taking care of family members, day care centers closing, home schooling, and household financial impacts are all taking a toll on stress levels, and can have a real impact on mental health, motivation, and performance. Despite your best efforts, these challenges pose a risk to your organization's ability to provide the level of service to which your patients are accustomed.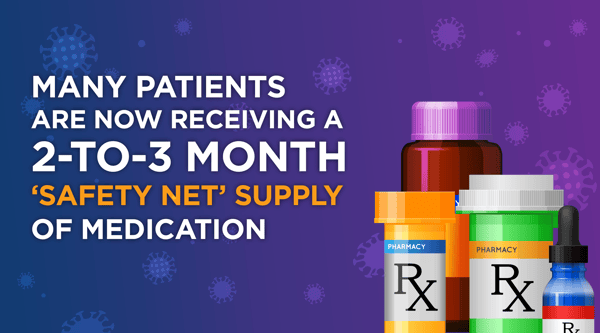 While some struggles simply can't be avoided, there is help
How can your specialty pharmacy keep your patients safely at home and on their uninterrupted therapy schedules, weather the rough waters of COVID-19, survive and even thrive through the stress and, most importantly, assure your patients get their medications on time while avoiding unnecessary doctors' office or emergency room visits?
We know your resources are strained, and we would like to share best practices that you may be able to leverage during this time. Over the course the next few weeks, we are going to share our perspective on the most critical challenges we're seeing and discuss ways maintain business continuity, continue to delight customers, and protect provider satisfaction during this difficult time.
Through this blog series, we'll share best practices utilized by our pharmacy partners that will keep you informed on ways you can:
Keep your patients informed and comfortable that the medications they rely on will be delivered on time and safe
Offset demands on your customer care organization with proactive patient outreaches
Increase visibility into orders after you ship them and communication to your customers
Proactively predict and avoid unnecessary shipping delays
Recover packages that have become distressed in transit and prevent patients from missing a dose
Prioritize extremely critical shipments with white glove care
The most important thing is ensuring that patients receive the medications they need, when they need it. Stay with us as we continually update you on shifting trends and the best practices you need to weather this storm. In the meantime, if there is anything that me or the ParcelShield® teams can do to assist you, please don't hesitate to reach out.
Sincerely,
Guillermo Sollberger
ParcelShield® CEO