The appointment of Sollberger transcends new market presence to ParcelShield as it cultivates new service lines and expands artificial intelligence (AI) driven parcel intelligence solutions further upstream in the supply chain.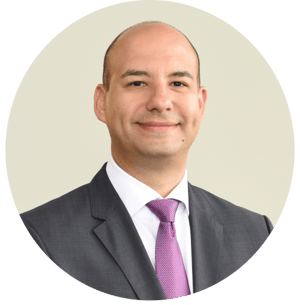 Redmond, OR and Danville, IL — ParcelShield today announced it has appointed specialty pharmacy executive Guillermo Sollberger as its new President. ParcelShield is the market leader in parcel management and rescue logistics solutions for the specialty pharmacy industry and offers parcel protection, predictability, and rescue service for medical and non-medical perishable and high-value product shipments. With the need to support advancing parcel intelligence and package protection needs for markets including — and going beyond — specialty pharmacy applications, ParcelShield is advancing its vertical market capabilities to support home infusion therapies, hospital settings, academics and research applications, irreplaceable human biologic products, mail order pharmacy, and other non-health care related industries existing in the United States and new global markets. The appointment will be effective April 29th, 2019.
Sollberger was most recently the Chief Operations Officer for AllianceRx Walgreens Prime, one of the nation's largest Specialty and Home Delivery pharmacies. The organization was formed when Walgreens, one of the largest drugstore chains in the U.S., and Prime Therapeutics, a leading pharmacy benefit manager, combined their central specialty pharmacy and mail services as part of a strategic alliance, announced by the companies in August 2016.
Sollberger has over two decades of operational experience with much of it focused on specialty pharmacy, specialty distribution, fertility pharmacy, and scaling operations to support rapid domestic and international growth. In addition, he has significant leadership experience in turning around operations, mergers and acquisitions, and business integrations, both within and outside of the pharmacy industry.
Previously, Sollberger held executive leadership roles for eviCore healthcare, MedSolutions, and Express Scripts.  He also held a senior management role with Sprint. He holds a bachelor's degree in political science from the University of Central Florida and a law degree from Florida A&M University College of Law.
"I am excited about the opportunity to serve as President of ParcelShield and lead the company from its current role as industry leader into innovating the next generation of parcel intelligence and reliability. As we continue to innovate and further ParcelShield's capabilities, we will enable pharmacies to get medication to more patients on-time and minimize costly parcel delays and losses that drive up the cost of care in the system," says Sollberger. "As we continue to expand beyond pharmacy, we will help our partners outside of the pharmacy industry increase customer satisfaction, enable growth and minimize product losses. We are in a tremendous position to help so many organizations improve their customer service satisfaction and minimize losses to their bottom line, and that's exciting!". 
Sollberger shares the company's core growth vision with its founding leadership team, Doug Dawson and Scott Knight, who are the visionaries behind ParcelShield's AI and machine learning technologies and processes.
"As a highly-respected industry leader, Guillermo is uniquely positioned to leverage our AI platform to develop specific solutions across the entire health care ecosystem," says Doug Dawson, co-founder and CEO of ParcelShield. "He will champion the next evolution of ParcelShield, which is AI technology integration across broader health care final mile touchpoints, while never losing focus on our foundational goal of increasing the patient experience and decreasing the cost of care for our clients."
"We took our vision of predictive parcel intelligence and, over the years, built it into the nation's leading high-value package protection solution," says Scott Knight, co-founder and Executive Officer of ParcelShield.  "Guillermo's skill set transcends the specialty pharmacy market and will fit nicely into our plans for expanding into other health care and non-health care markets."
For more information on ParcelShield's continued global market and service enhancements, please contact Brian Thomason, Chief Strategy Officer of ParcelShield, at [email protected] or visit www.parcelshield.com.