How do Hurricanes Affect Medication and Therapy Access for Patients?
When people think of hurricanes' damage, the first thoughts that come to mind tend to be loss of electricity, flooding, and damage to homes. While these are significant concerns, there is another profound effect of hurricanes that is often overlooked – disrupted mail and parcel delivery via multiple carriers and patient access due to voluntary and mandatory evacuations.  
Specialty medicines are overwhelmingly delivered via commercial carriers. These drugs require special storage and transportation conditions, so these prescriptions are filled by specialty pharmacies, who specialize not only in clinically supporting patients but also in the storage and shipping needs of these various medications and critical drug therapies.
During catastrophic weather events, shipments of specialty medications can be delayed or even damaged. This can be dangerous and life-threatening for patients with chronic conditions that require consistent treatment.
The 2020 hurricane season will rival 2005 when we saw devastating storms such as Emily, Katrina, and Wilma. As Alabama and Florida residents continue to struggle with Hurricane Sally, AccuWeather projects 28 tropical storms, 13 hurricanes, and six major hurricanes before the season winds down in early December.
This active storm pattern presents several challenges to specialty pharmacies trying to get critical drug therapies into their patients' hands – before the storm to fill prescriptions, during the storm keeping patients informed with operational changes and delivery impacts, and after the storm communicating with patients regarding missed deliveries. Specialty pharmacies and carriers are often 'in the eye of the storm,' resulting in an impact on their supply chain, limiting access to medications, operational challenges when employees must evacuate or shelter in place, and creating implications for delivery capabilities.
Specialty pharmacies need a reliable service during these uncertain times. They need the visibility to help predict and prevent shipment distresses, operational support in distressed situations to react, respond, and rescue distressed packages to ensure patients receive their critical therapies. They also need help proactively engaging patients expecting their essential medications to keep them informed before, during, and after the storm.
ParcelShield® Provides Safe Medication Shipments for Patients
At ParcelShield, we have the expertise to deliver what patients and specialty pharmacies need.
We use predictive science to identify route conditions with likely shipping delays, not only during potentially catastrophic weather events but every day. Our predictive science has automated workflows built into the system to help recover parcels if it becomes distressed.
Our proprietary Weather Farm™ technology uses multiple data sources for statistical modeling and delivery route prediction. It employs a machine learning technique that continuously analyzes 40+ different weather elements that could potentially impact a carrier's delivery performance to patients waiting on specialty medications. We do this with the following data:
Historical data on weather and weather impact on carrier routes and commercial aircraft delays and evacuations
Rea-time updates on regions and specific zip codes with a probability for service degradation
Real-time parcel deliverability performance data

 
We work with our pharmacy partners to understand what they can and cannot do and provide clients with deliverability alerts every day. This means patients will know when there might be potential delays, and they can be confident that our pharmacy partners have the guidance to get the medication to their patients as safely, predictably, and fast as possible. We also provide automated and live calls to patients to understand the availability to receive deliveries.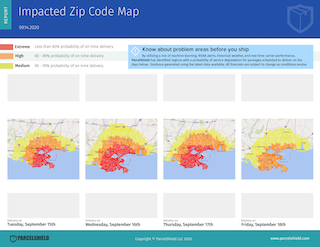 Patients should not be burdened with additional uncertainty during these challenging times. ParcelShield® insights increase delivery effectiveness of the most critical specialty pharmacy packages from 96% averaged without ParcelShield, to over 99%. That's a reduction of nearly 75% in late packages. With ParcelShield, patients no longer have to worry about what happens to specialty medicine shipments during inclement weather or any other time.
While these storms continue to cause damage, some of the significant effects have included widespread flooding and power outages, both of which affected patients needing medicines. Road closures make it difficult for standard delivery services to navigate. At the same time, that kind of power loss means patients cannot contact their specialty pharmacy—and, therefore, are unable to receive their deliveries.  For Hurricane Laura in late August, ParcelShield® alerted on approximately 1,417 zip codes where potential shipment disruptions could impact patient therapy deliveries.
Hurricane season is not over yet. However, by planning and taking measures to prepare, specialty medicine delivery to patients can be maintained as much as possible.
Sources
https://www.cnn.com/2020/02/09/world/bahamas-struggle-to-recover-from-hurricane-dorian-iyw-trnd/index.html
https://www.accuweather.com/en/hurricane/2020-atlantic-hurricane-season-on-pace-to-rival-2005-for-total-storms/814471
https://www.foxnews.com/world/tropical-storm-teddy-vicky-atlantic-hurricane-season-weather-pacific-storm-hurricane-storms
https://weather.com/storms/hurricane/news/2020-08-05-isias-damage-impacts-power-outages-flooding-carolina-northeast
https://www.cnn.com/2020/08/24/weather/marco-laura-gulf-coast-weather-forecast-monday/index.html